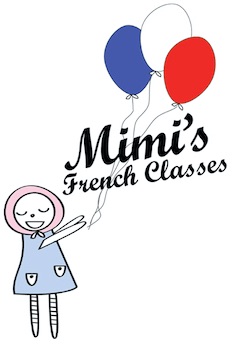 Frequently Asked Questions
Is my baby/toddler/preschooler too young to learn a new language?
The height of our ability to learn a language is in the first few years of our lives. It is in these years that we listen to the language around us, form an understanding of the words and develop an ear for the accent which we will later adopt as our mother tongue. We are able to do this with more than one language. Therefore, this is the optimum time to expose your children to learning a new language. Their ability to take in a new lanugage reduces after the age of 6 and is strongest before the age of 1. Although they may not yet be able to communicate, they will store this language knowledge until they are ready to do so.
I don't know a word of French! Does that matter?
No prior knowledge of French is necessary. Mimi's have parents and children with all levels of French in our classes. The classes are aimed at the young children and the we are there to answer any questions. The words of the songs are given to you to take home at the beginning of the term so that you can practice if you wish and vocabulary is put up in the classroom to help the parents.
My child speaks two other languages at home already. Will learning another one confuse them?
Children have an extraordinary capacity for learning languages. Research shows that they can learn up to 5 languages and the more they learn, the more beneficial.
What age can my baby join the toddler classes?
Mimi's generally have babies join us from about 8-10 months, although we welcome younger babies also. This is a fantastic age for babies to be exposed to another language and a new setting. They are busy learning how to communicate and listening out for the sounds of words. They take everything in. They will love the songs, and the different objects to touch and hold. They will also love watching the other children interact with the different activities. The idea of the classes is also to give parents/minders ideas of songs to sing and activities to play in French at home.
Is there a discount for twins/siblings?
Yes. We offer a 10% discount on the second sibling/twin. - Unfortunately we cannot offer sibling discounts during the time of COVID, as we have reduced class sizes to 5 children per class. We hope to be able to offer sibling discounts again once classes return to normal.
Why are the terms only 6 weeks long?
We explore different topics and focus on different aspects of the language learning in each term. We also learn a new set of songs and rhymes every term. Our activities are often seasonal. Having shorter terms ensures that the songs, activities and learning is new and exciting every six weeks.
Why can I not attend the classes on a 'drop-in' basis?
Our classes and terms are carefully structured to build on the language that the children are learning. Each class does not stand alone, but builds upon the one previous to it and leads to the next one. Similarly, each term builds on the last. A single class would not benefit the children enough in terms of learning and enjoyment of the routines, songs and games.
Will my young child be bored in a language class?
Mimi's have made language learning as fun and as natural as possible. The children will be singing, dancing, playing games, listening to stories and exploring different activities. They learn the way all children should learn – through doing! Our main aim is that the children enjoy learning French.They wont even know they are learning!
Will my child be able to concentrate in the online classes?
We are all new to virtual live learning, and we have been pleasantly surprised at how well the classes have been going. The kids are having a ball and we have had amazing feedback. Parents are delighted that their children are enjoying learning French online. Children always surprise us so if in doubt give them a go at our classes and you may be amazed at how much fun they will have learning with Mimi's.

Here are what some parents with the same worries had to say after trying the zoom classes:
"He loves the classes. I was worried that he wouldn't stay concentrated using Zoom rather than face to face but absolutely the opposite!" - Conall 3
"What a fun and interactive way to learn French. Genuinely surprised and delighted that my 5 year old was so engaged with it, the screen was no barrier to the personal element of the mimis classes that we love!" - Isla 5